Tiger Woods
One of the most enigmatic players in the history of golf, Tiger Woods is on the tail end of a bright career that led to 14 major championships and 79 PGA tour wins, which are both good for second all-time in PGA Tour history. Tiger blazed onto the scene in 1996, handily winning the 1997 Masters by 12 strokes. Woods was the world's No. 1 golfer from August 1999 to September 2004, then again from June 2005 to October 2010, setting records for both consecutive weeks at No. 1 and total weeks at No. 1. Woods is an 11-time PGA Player of the Year and 10-time money winner, making him the highest-paid golfer of all time.
To get started and take a shot at taking down one of these massive prizes, visit one of the best gambling sites on the internet.
Greg Norman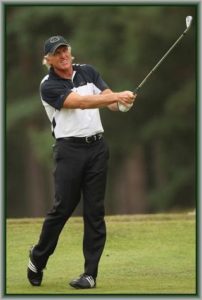 Greg Norman is an Australian golfer who spent a total of 331 weeks as the No. 1 in the world in the '80s and '90s. Norman turned pro in 1976, and he has won 85 tournaments, including two majors. Norman is one of the biggest "what if" golfers in modern history, settling for second place seven times in three of the four big tournaments, which would have made him even more of an icon if he had won those. Norman was inducted into the World Golf Hall of Fame in 2001 and is considered one of the greatest drivers of all time.
Phil Mickelson
Phil Mickelson, also known as "lefty," is an American golfer who has won five major championships and 42 PGA tour events since he became a professional golfer in 1992 out of Arizona State University. Mickelson is a Master of the Masters, winning the tournament three times in six years, and he is a master of getting second place at the U.S. Open, achieving a second-place finish a record six times over 14 years, including 2013. Mickelson has come incredibly close to winning a Grand Slam, meaning winning all four major tournaments, as he won the Open Championship in 2013 and the PGA Championship in 2005. Mickelson was inducted into the World Golf Hall of Fame in 2012.
Jack Nicklaus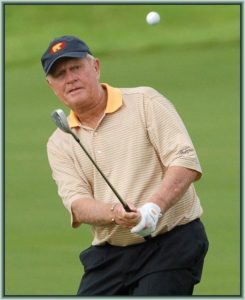 Jack Nicklaus, also known as "The Golden Bear," is professional golf's greatest champion, winning 18 major championships, 19 second-place finishes, and nine third-place finishes over the course of a short, 25-year career. Nicklaus, who is from central Ohio, played golf at The Ohio State University, and he was instrumental in bringing PGA events to the state. Nicklaus has 73 PGA Tour wins, good for third all-time on the PGA Tour, but he always saved his best days for major championships. Nicklaus was inducted into the World Golf Hall of Fame in 1974, and he is an eight-time PGA Tour money winner, five-time player of the year, and the 2008 recipient of the PGA Tour Lifetime Achievement Award for his service, playing, and overall impact on the sport of golf over the last 40 years.